Part 1: How to choose a Label Printer
Making the right choice is Important
You can economize by choosing a label printer that performs across a diversity of tasks. A label substrate that is being used for an application outside of its intended use might fail to adhere to the surface on which it is applied. Using media that is not designed for the printer can lead to damage. Ahearn & Soper / ProVision WMS will help you select the right options for your needs.
Printers that meet the demands
Warehouses, terminals, manufacturing plants and distribution
centers are demanding environments. Choosing a label printer that is engineered not just for durability, but for reliability and functionality will provide the business with a tool that continues to perform at it's
peak regardless of conditions. Ahearn & Soper / Provision WMS has the expertise to set your business up for success that will help you realize your return on investment.
Thermal Transfer v Direct Transfer
A thermal printer operates by heating a thermal print head to produce an image
Most thermal printers operate TT (thermal transfer) or DT (direct thermal) mode
Thermal printing is popular because of the print quality, rapid print speeds, extreme working environments and substrate versatility.
Thermal Transfer Printing
Thermal transfer printing is a process that requires thermal transfer ribbons, software and a substrate (label or tag stock). As the ribbon passes between the printhead and the substrate, the printhead is heated to melt the wax-resin, or risen-based ink off the polyester coating to transfer the image on to the substrate.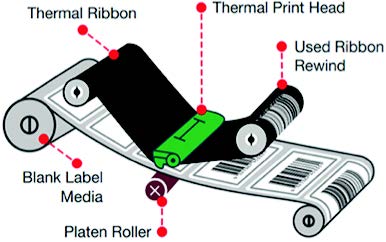 Direct Thermal Transfer
Direct thermal printing also uses a print head to generate images but instead of using ribbons to transfer ink, it creates an image directly on the label or tag. Direct thermal printing requires the print head elements to be in direct contact with the material as it is pulled across the print head. This print technology uses chemically treated, heat-sensitive media that turns black when it passes under a heated print head.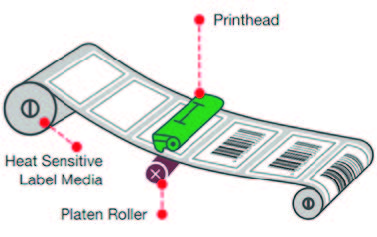 Thermal Transfer Advantages & Disadvantages
Advantages:
Excellent durability
High bar code integrity/quality achieves high scan rates
Prints extremely small images/bar codes
High print speeds
Longer print head life
Lower cost materials
Variety of ribbon formulations for diverse applications
Disadvantages:
Media/ribbon loading process is not always user friendly
Multiple SKU's to purchase and store
Direct Thermal Advantages and Disadvantages
Advantages:
Single consumable requirement
High-speed capability
Environmentally friendly, no ribbon waste
Doesn't smudge
Disadvantages:
Limited media options
Limited resistance to chemical and light
Limited resistance to heat and steam
Limited resistance to oils and plasticizers
Reduced printhead life
BPA/BPS/Leuco dye based
Download PDF