Businesses across Canada are now using colour labels for packaging and recently becoming more popular within distribution, healthcare and manufacturing companies. Some of the key reasons why colour label printers are building momentum are it gives companies the opportunity to stand out, clearly identify products within a distribution center  and in some cases draw attention to messaging for important instructions.
With the recent advances for on-demand colour label printing technology, our selection of colour label printers from some of the biggest manufacturers offer you control regarding your colour label production. Allowing to print professional colour labels when you need them and the actual quantities when necessary.
With customers requirements being more demanding and compliance regulations can also be a major reason why now is the time to invest in colour label printers . Colour printers can be used to highlight important information regarding the contents; from lot, date codes and identifying hazardous materials. There are many key advantages of on-demand colour label printing including flexibility, cost savings , reliability and high speed printing.
At Ahearn & Soper, we are proud of the quality of our labels and only use certified approved Epson material.  Whether you need Chemical Labels for the most durable, long-lasting (BS5609 certified) labeling applications or need a label for a retail or warehouse application, we can help.  We can design a custom label that meets your requirements.
GHS Labels for Chemicals
GHS stands for the Globally Harmonized System of Classification and Labelling of Chemicals. GHS defines and classifies the hazards of chemical products, and communicates health and safety information on labels and safety data sheets. To learn more about our GHS solutions please visit our specialty labels.
Printing Solutions Provided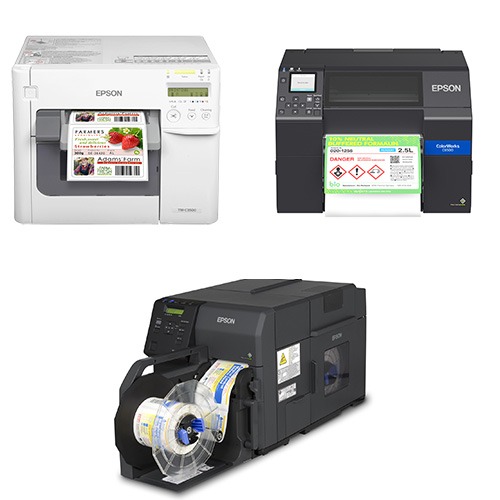 Inkjet Colour Printers
Colour labels on demand
Certified material and ink available with select printers
4.0″ and 8.0″ wide colour printers
Ahearn & Soper expert label services
Printer and Label Software Installation and Training
GHS Labels and Printer Ink Cartridges
Software Maintenance Agreements
Printer Repair Service Contracts, On-Site and Depot
Need more information on labels for colour printers? Contact Us Today.