Ensure your equipment reliability 
Maintenance
Our Maintenance Management offers all the necessary features which you need to simplify maintenance planning for both short and long term. Preventive, corrective maintenance and service calls are managed easily with the Maintenance Board. React and adapt quickly to emergencies with our service call module, provide reliable numbers and statistics related to your maintenance operations and your equipment.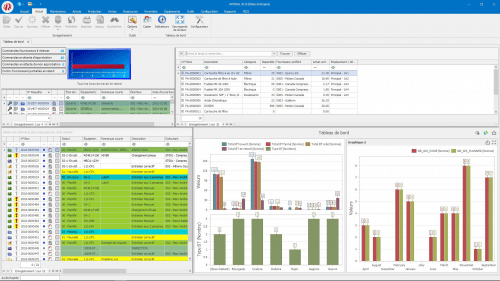 Our software includes a number of dashboard that allow the user to have a overview of the maintenance situations. Our maintenance offers a dashboard which is specific to each user of the software. A personalized dashboard by the person who wants to quickly find important information in his daily life.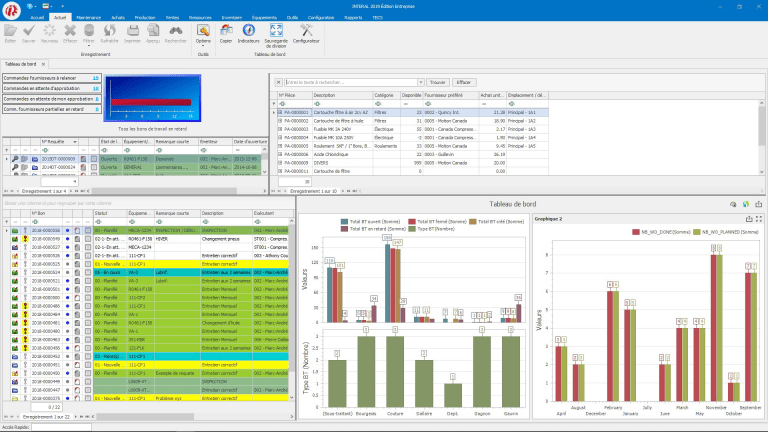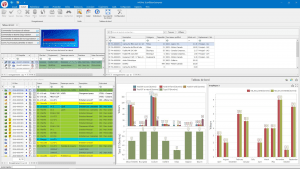 A maintenance dashboard is an essential tool for anyone who needs to see all the data that helps them make informed decisions or act quickly when they detect a situation requiring rapid intervention.
Equipment Information – Equipment files are the basis of our maintenance software. They represent your equipment, and contain all of its important information: serial numbers,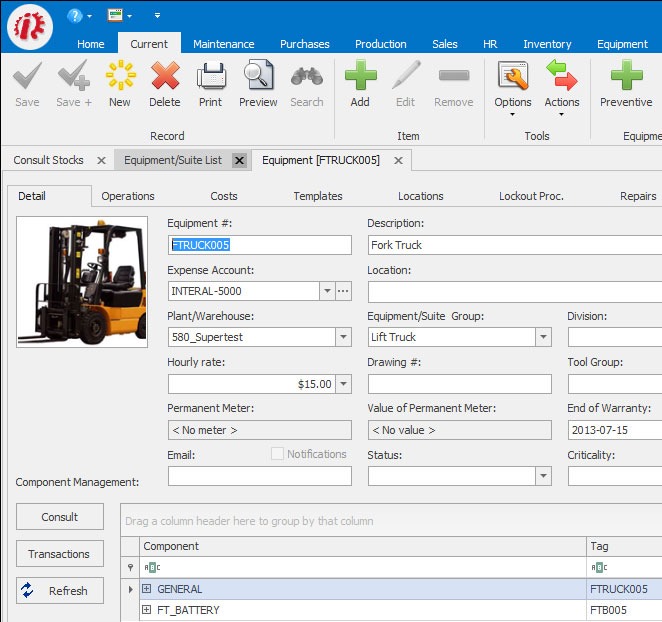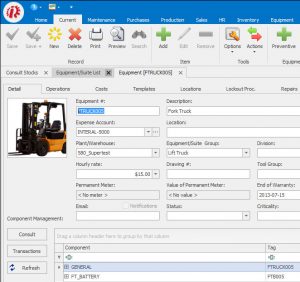 end of warranty, location, parts, components, etc. It's also where the preventive maintenance program is set up.
Track Your Maintenance – Components let you track maintenance of parts such as motors, pumps, gear boxes, etc., even once they've been transferred from one piece of equipment to another. And component files are entirely customizable so they contain the information you really need (RPM, voltage, HP, model, make, serial #, etc.) depending on the type of component. Securely work on your equipment by putting Lock-out procedures in place and make sure all sources of energy are mentioned.
The Kompanion! mobile application has been designed to assist and make life easier for your (maintenance) employees executing maintenance work; in your warehouse, on your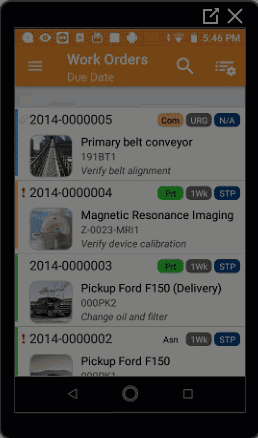 equipment, in your production facility, on your infrastructure and on any other asset of your company that require maintenance.
Production
Our production planning tools combined with our expertise make it easy to have a structured product progression throughout the production process and allow managers to calculate precise production costs.
The module CMMS Production (ERP/TPM for production) can meet the needs of manufacturers in terms of production management monitoring. This application is designed to manage manufacturing companies' maintenance simply and visually, in real time.
Ahearn & Soper's production offers a scalable modular structure that allows the company to tailor the implementation gradually. It is therefore possible to choose the modules that meet your short term requirements and later add others depending on the changing needs and priorities.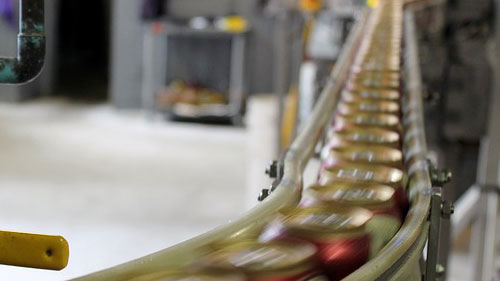 Product Management – Quickly and easily manage your product in terms of production.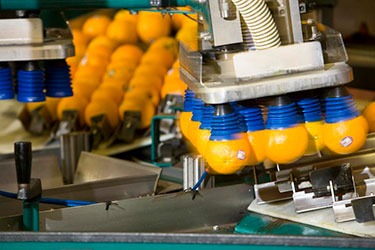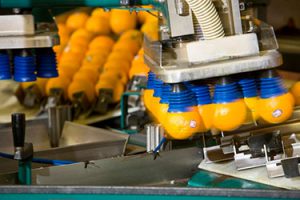 Regrouping products by categories and sub-categories
Multi-level management of products and sub-products
Management of profit margins and direct cost price of products
Management of the models/colors as well as usage units and equivalent products
Storage management (where, when and how)
Production planning according to demand or a director plan
Quality Control – Associated to good manufacturing processes, quality control will allow you to measure the quality of your production for the critical operations. You are able to input data during your production process and validate in real-time the properties of your products.
Specify the type of data entry (text or numerical)
Specify the type and quantity of parameters to collect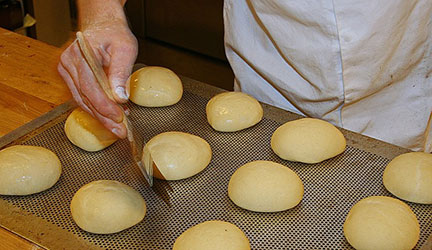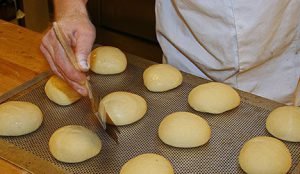 Production order – The production order will allow you to regroup all of your production so you can meet the demand. This document allows you to generate production requests which are adapted to meet your needs.
A recommendation from the MRP planner
A Stock and demand analysis
A particular customer order
These days, customers have the right to expect a certain level of quality. This has led to many new standards such as ISO and HACCP.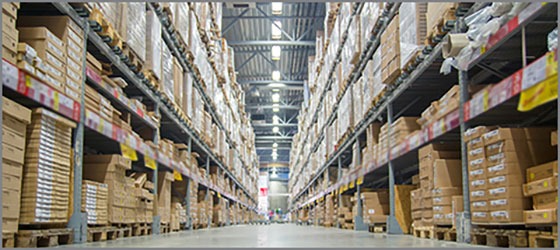 These systems often require the complete traceability of components used in production, as well as recall lists in case of defects in the finished product.
In order to meet these requirements, Ahearn & Soper offers a system that keeps track of the batches produced and their components. The system allows you to track the complete production history of each batch produced on a production order.
It is then simple to see the list of batches that were used in producing the batch. Thanks to its search structure by tree-view and its list of anchor points, the batch consulting interface allows you to see all the batches that relate to the same product, showing you, one at a time, the chain of batches used in the production process.
Procurement
Ahearn & Soper's Procurement is a flexible, powerful and easy to use management tool to manage your inventory and purchasing.
It's multi-plant, supports multi-location (factory / locations) and allows you to manage requisitions, purchase orders, approval of structures, the minimum and maximum storage and replenishment quantities, suppliers and manufacturers and expense accounts purchased by mail.
Supplier Management – Ahearn & Soper's Procurement allows you to completely manage all information associated to your suppliers. Supplier databases with poor quality data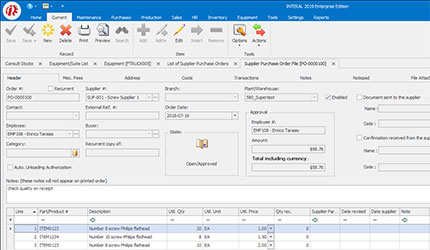 are a well-known problem. Almost every supplier file contains duplicate, incomplete or inaccurate information. Besides that, a lot of companies use several databases rather than just one with supplier information.
By consolidating all the supply chain information in one supplier file, Ahearn & Soper's Procurement will help you manage all your suppliers in the same place. The supplier file contains all related supply chain and contact information in one elaborate and complete supplier file.
Main contact information,add multiple contacts within the company, preferred language, applicable taxes, automatic sending of bid requests and purchase orders, invoicing information, delivery info, accounting information (payment terms, transport etc), related equipment supplied by the supplier, supplier purchase history, purchasing statistics, add notes etc. You can even attach files (such as contracts, manuals etc)
Inventory Software – If your company is located in the US or you do business with US companies, then you are aware of the Sarbanes-Oxley Act and you need a program that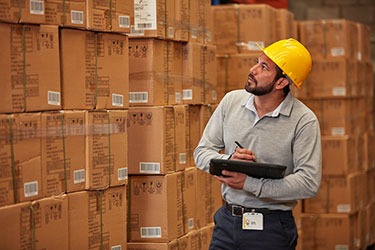 complies with this law and keep a check on transactions of your inventory.
Inventory Analysis – The power of a software lies in its ease of use, but also especially in the precision with which it can control the ordering of required parts at the right time and for the best price. Control costs, maximize inventory
Keep inventory optimized 
The algorithm calculates the needs over time based on current inventory levels, existing orders, min / max and required time to inform you about the purchase orders needed to keep the inventory optimal of each room of the store.
To learn more about our products and services, contact us today.
Visit our webstore to view our range of products from the top manufacturers within the industry
Sign up for Ahearn & Soper updates
Since 1975, Ahearn & Soper Inc. has provided barcode and identification software, hardware, supplies and services that improve accuracy, tracking, and efficiency within distribution, manufacturing and healthcare operations.